Your No.1 Trusted Senior Home Care Provider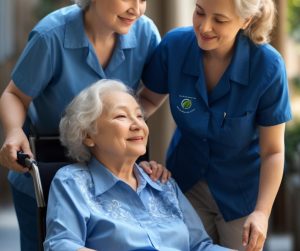 At First Watch Home Care, we understand the importance of compassionate and affordable home care for seniors. Our core values are home-grown and were developed right here in the heart of Arlington, Texas, for our cherished customers. Our values guide everything we do. And, we are dedicated to providing the best possible service with a team of fully trained and professional staff members.
Compassionate Care for Seniors
We know that seniors and the elderly deserve the utmost care and attention. That's why we're here. As a bonded and insured home care services provider, our mission is to help our clients lead dignified, independent lives in the comfort and safety of their own homes, while giving their family the peace of mind they deserve. We achieve our unique service delivery by carefully assessing and understanding our client's unique needs and matching them with qualified caregivers that are best suited to meet those needs.
Stay in the Comfort of Your Home
We believe that home is where the heart is, and we want to ensure that you or your loved ones can continue to cherish that safe space and continue to enjoy the comfort it provides. First Watch Home Care, therefore, offers the perfect solution for seniors and others who may not be ready to leave their homes for an institutional setting or live with relatives. Even in the face of illness or chronic conditions, our dedicated caregivers provide the essential support needed to remain at home.
Improving Lives Through One-on-One Care
Our commitment to improving lives extends to providing compassionate one-on-one care at home. This is because we fully understand that each individual has unique needs and preferences, so our services are tailored to ensure comfort and well-being. Whether you require assistance for just a few hours a day or need 24-hour care, we are here to meet your needs.
Affordable and Personalized Care
We believe that quality care should be accessible to everyone and must not be prohibitive. That is why we offer personalized and affordable services designed to accommodate a wide range of needs. Our team is here to work with you and your family to create a care plan that suits your lifestyle and budget.
First Watch Home Care is more than just a home care provider; we are not just your partners, we are your family!
We ensure high quality life for our seniors in Arlington, Texas. Our dedication to compassionate care, professional staff, and personalized services sets us apart.
Contact us today to learn more about how we can enhance the life of your loved ones while enjoying the comfort and security of your home.
Services You Want 24/7
At First Watch Home Care, we take pride in offering a round-the-clock range of services that cater to the specific needs of our clients. Our flexible care plans are designed to accommodate your schedule and preferences. 
Our Caregivers Make a Difference
The exceptional quality of our caregivers is what sets First Watch Home Care apart from the rest. We understand that entrusting someone with the care of your loved ones is a significant decision. That's why our home care aides undergo rigorous training, selection process, orientation, and ongoing professional development. Our caregivers are not just highly skilled; they are compassionate individuals who genuinely care about the well-being and comfort of our clients. 
All Services Are Guaranteed
We stand behind the quality of our services and are committed to your satisfaction. Whether it is personal care, dementia care, or homemaker services, each service we offer comes with our guarantee of excellence. Your peace of mind matters to us, and we strive to exceed your expectations with every visit.
Payment Options Made Easy
At First Watch Home Care, we want to make the process of arranging and paying for care as straightforward as possible. We accept major credit cards, including MasterCard and Visa, for your convenience. We are proud to be an approved provider for Blue Cross and Veterans Affairs provider. Contact us.
Speak to our professional service providers today.